Steering in a safe direction
Überbrückungshilfe III wird vereinfacht
Wie das Bundesministerium für Wirtschaft und Energie heute mitteilte, hat man sich innerhalb der Bundesregierung über die Vereinfachung der Überbrückungshilfe III verständigt.
What makes us special?
A good question – we are sure we could now write you a long text about our broad range of services, our know-how and many of our strengths. But, honestly, would you read this to the end?
So what's so special about us?
Germany's best auditors 2020 – We're back in the game!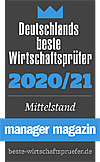 Again this year, we have successfully qualified for the Manager Magazin seal of approval "Germany's best auditor 2020" in the category medium-sized companies.
We are glad to follow up on last year's award and therefore belong to Germany's best auditors this year as well.
0
electronically filed documents
0
tax returns prepared per month
Do you have any questions?
Please do not hesitate to contact us for further information.