Steering in a safe direction
Personengesellschaftsrecht wird reformiert
Mit dem Gesetzentwurf soll die Gesellschaft bürgerlichen Rechts (GbR) ausgestaltet und das Recht der Personengesellschaft insgesamt an die Bedürfnisse eines modernen Wirtschaftslebens angepasst werden.
What makes us special?
A good question – we are sure we could now write you a long text about our broad range of services, our know-how and many of our strengths. But, honestly, would you read this to the end?
So what's so special about us?
Germany's best auditors 2020 – We're back in the game!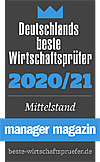 Again this year, we have successfully qualified for the Manager Magazin seal of approval "Germany's best auditor 2020" in the category medium-sized companies.
We are glad to follow up on last year's award and therefore belong to Germany's best auditors this year as well.
Despite corona crisis – We are there for you!
Dear Sir or Madam,
dear clients, business partners and friends,
The current situation is not easy for all of us – it confronts us with many challenges and demands one or the other decision, both in the private and the business sector.
We, the SRS Audit-Group, would like to take this opportunity to tell you that even in times of crisis we remain true to our guiding principle and make your concerns our own. We have taken measures and made arrangements to make sure to continue being there for you. Our offices are manned and can be reached as usual via the familiar channels such as e-mail, telephone, fax or mail. We are here to support you – for example, if you need information and quick answers to employer questions about short-time work benefits, questions about liability law or public aid programs – contact us – we are here for you!
Please also follow our link or the button on our homepage ZU DEN NEWS – Thank you!
Take good care of yourself and above all stay healthy!
Kind regards, SRS Audit-Group
Summarised information can also be found here:
https://www.gruenderlexikon.de/news/kurz-notiert/corona-soforthilfen-der-bundeslaender-im-ueberblick-84233716
0
electronically filed documents
0
tax returns prepared per month
Do you have any questions?
Please do not hesitate to contact us for further information.