Steering in a safe direction
Kein Kindergeld bei berufsbegleitender Weiterbildung
Bei volljährigen Kindern, die bereits einen Abschluss haben, setzt ein weiterer Kindergeldanspruch voraus, dass darauf aufbauende Ausbildungsaktivitäten noch Teil einer einheitlichen Erstausbildung sind. Bei einer berufsbegleitenden Weiterbildung verneint dies der BFH.
What makes us special?
A good question – we are sure we could now write you a long text about our broad range of services, our know-how and many of our strengths. But, honestly, would you read this to the end?
So what's so special about us?
Training and study fair "mach was!"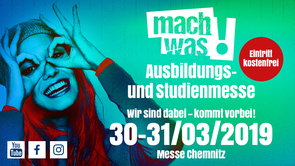 At "Mach was!", we will be informing all those interested about the training occupations of assistant tax consultant and office management assistant as well as about opportunities for dual studies or internships.
The training and study fair will take place on 30. and 31. March 2019 from 10 a.m. to 4 p.m. in the fair Chemnitz.
We will be there on both days and await you at our booth!
Schau Rein!
A glance at the calendar reveals that the week of open companies in Chemnitz from 11 to 15 March is within reach.
We would also be happy to open our doors on 13 and 14 March. As a training company, we provide comprehensive information on the job profiles of assistant tax consultants and office management consultants.
Highly motivated and committed, our preparations are already in full swing. After all, we don't just have one title to defend – "Best Practice" – we absolutely want to live up to this award as one of the best companies again.
We are looking forward to many visitors!
Registrations for our events are required and can be made here.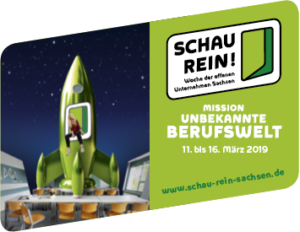 0
electronically filed documents
0
tax returns prepared per year
Do you have any questions?
Please do not hesitate to contact us for further information.