Steering in a safe direction
Bundesfinanzhof bestätigt neues Reisekostenrecht
Das steuerliche Reisekostenrecht, das seit dem Jahr 2014 den Werbungskostenabzug für nicht ortsfest eingesetzte Arbeitnehmer und Beamte – wie z.B. Streifenpolizisten – einschränkt, ist verfassungsgemäß, wie der Bundesfinanzhof (BFH) entschieden hat.
What makes us special?
A good question – we are sure we could now write you a long text about our broad range of services, our know-how and many of our strengths. But, honestly, would you read this to the end?
So what's so special about us?
SRS Audit GmbH – Awarded as TOP Tax Firm 2019 by FOCUS
The decision has been made – we are among the best!
As a result of a survey of independent auditors and tax consultants, which professional colleagues they would recommend to others, the editorial staff of FOCUS in cooperation with Statista GmbH evaluated this data collection and compiled the list of Germany's top tax law firms.
We received awards in the following fields of work/industries:
Corporation tax
Accounting
Value added tax consulting
Company foundation
Audit
Consulting for non-profit companies/associations/foundations
Sector: Wholesale and retail trade
Sector: Craft, real estate, construction
Sector: Industry & Production
Sector: IT & Media
Our award can be read in the issue "FOCUS-SPEZIAL" published on 05.03.2019, where the TOP tax law firms 2019 are listed.
We look back with pride and joy on this award and associate it with our claim to continue to be a competent and reliable partner for you in the future.
Germany's best auditors 2019 – A little pride is allowed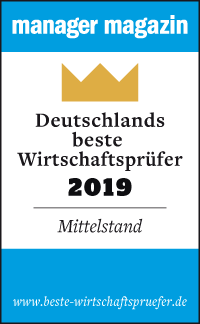 …because we're part of it! We have successfully qualified for the Manager Magazin seal of approval "Germany's best auditor 2019" in the category medium-sized companies and with the official awarding on 22.03.2019 this award is now also "sealed"!
0
electronically filed documents
0
tax returns prepared per month
Do you have any questions?
Please do not hesitate to contact us for further information.